Earlier this month, Louisiana Governor John Bel Edwards identified a series of transportation infrastructure and workforce training improvements being launched in Northwest Louisiana. These initiatives include highway and bridge projects that will accommodate the unique transportation needs of major manufacturers in the region, as well expanding workforce development training curriculum at Northwest Louisiana Technical Community College to upskill current and potential area employees­.
Louisiana-Born, Louisiana-Proud
Since 1982, Fibrebond has been a corporate resident of Northwest Louisiana, with operations that began in Bossier City and relocated to their current 185-acre manufacturing site in Minden to accommodate the company's expansion. Specializing in the manufacturing of complex engineered-to-order solutions for use in data center, petrochemical, power and telecom markets, Fibrebond proudly employs over 700 local professionals.
In recent years, Fibrebond has faced difficulty transporting large prefabricated enclosures manufactured out of its Minden-based facility because surrounding bridges have been de-rated, preventing the company's heavy products to cross.
The announcement by Gov. Edwards was made in an effort to keep Fibrebond in Louisiana and showed the state's willingness to work with the company on it's infrastructure needs. Fibrebond, who has been exploring the company's relocation to East Texas, announced its decision to stay in the state.
State Agencies Pull Together for Northwest and All of Louisiana
On October 3, a Memorandum of Understanding (MOU) detailing the infrastructure and workforce development solutions was signed at Fibrebond's facility by Gov. Edwards and officials of the state Department of Transportation and Development (DOTD), Louisiana Economic Development (LED) and the Louisiana Community and Technical College System, along with state Sen. Ryan Gatti and state Rep. Wayne McMahen.
"With this document signing, we are launching important initiatives in transportation and workforce training that will begin here in Webster Parish, but their effects will be felt throughout Northwest Louisiana," Gov. Edwards said. "The agreement signed today represents a partnership among several agencies that are truly committed to improving the quality of life for residents of the Northwest Region. These improvements will benefit local communities and major employers, including Fibrebond, which has a long and successful history in Minden and will continue to operate here for years to come."
As a result of the solutions and MOU signing, Fibrebond has confirmed its intent to retain its decades-long manufacturing operation in Minden.
"We are a small, Louisiana-grown business, but we are accomplishing great things here. And we look forward to being here for many more years," stated Graham Walker, Fibrebond's CEO.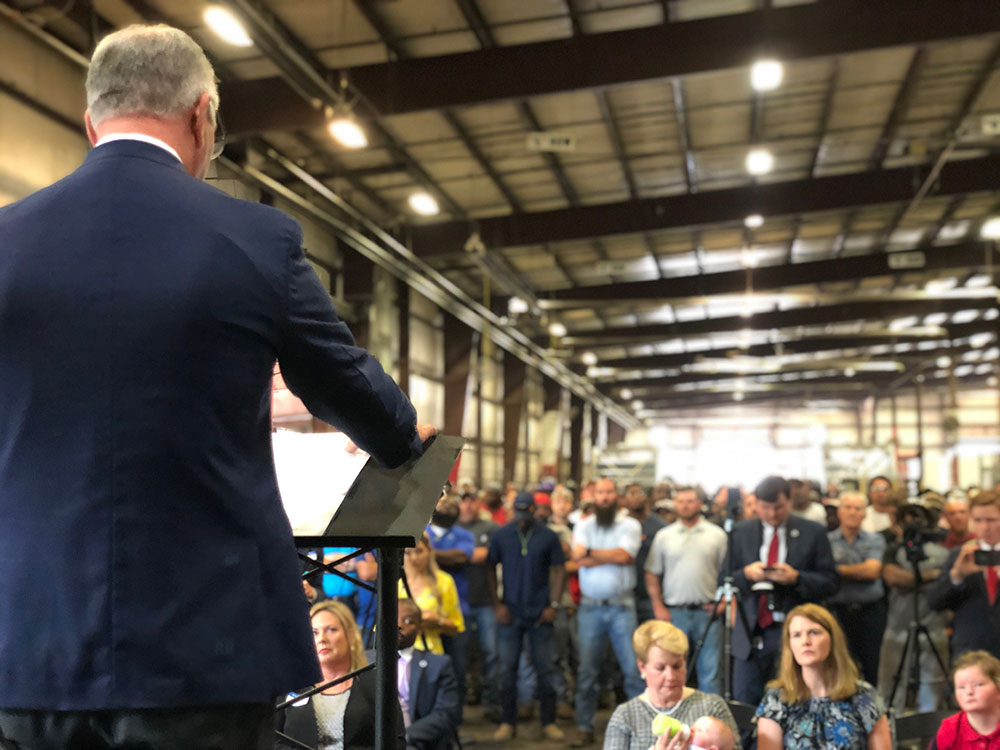 Forward-Thinking Initiatives
The infrastructure initiative will establish a heavy-haul route from Minden to Texas for over-height and overweight loads, providing more than 50 miles of highway capable of handling special loads and expediting the movement of commerce across Northwest Louisiana. To create this route, DOTD will lower the U.S. 80 underpass at Interstate 20, between Dixie Inn and Goodwill Road, in both the eastbound and westbound directions. This improvement will achieve a minimum vertical clearance of 17.5 feet, resolving a critical issue for the transport of oversized, custom-built loads to industrial customers. In addition, the westbound U.S. 80 bridge over Boone Creek near Dixie Inn is currently being removed and rebuilt. DOTD will also begin a comprehensive replacement program for eight other bridges across the region. LED is committing $2.5 million in Rapid Response funds for DOTD to help with the speedy completion of these improvements, and will support the major work DOTD is completing, using in-house materials and resources.
The workplace development initiative is set to upgrade high-demand technical college training programs at LCTCS to meet the needs of Northwest Louisiana employers. LED will also be committing $250,000 in Rapid Response funds to assist in this effort, and has offered to provide the design and production services of LED FastStart®, which has been ranked the No. 1 state workforce training program in the U.S. for the past 10 years.
Advancing the State, Its Manufacturers and Employees
The targeted improvements in transportation infrastructure and workforce training are designed to benefit additional major manufacturers throughout Louisiana's Northwest Region, including, but not limited to, Fibrebond.
CEO Graham Walker remarked, "For 37 years, Fibrebond has built world-class projects here in Minden, Louisiana. Our people here make the difference, and I am thankful that the State of Louisiana has supported our team of 700 Louisianans and Northwest Louisiana with the public infrastructure and workforce training announced today. Gov. John Bel Edwards led the state to a solution that gives Fibrebond the certainty necessary for us to continue investing in Louisiana. Sen. Ryan Gatti has been instrumental in this solution. This entire effort has been about what's best for Louisiana."
To learn more about this dynamic, impactful MOU signing, read the LED Press Release here. To learn more about Fibrebond and how our team of dependable and experienced individuals can meet your project requirements, click here.