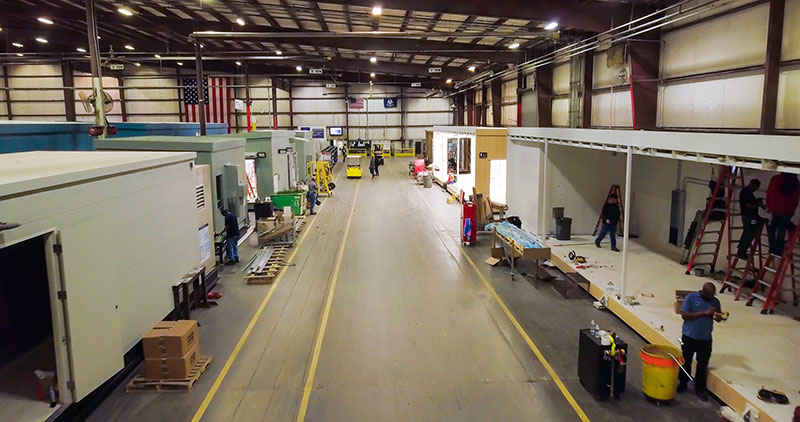 09 Sep

Concrete vs. Steel: Structural Systems Offer Customers Options

Concrete vs. Steel: Structural Systems Offer Customers Options

At Fibrebond, we have led the way in developing innovations in construction using precast concrete and steel for more than 35 years. During the emergence of wireless communications, we revolutionized the manufacturing of concrete equipment buildings and the integration of customer-supplied equipment.

We approach each project with that same innovative spirit and customer focus. With our experience in concrete and steel structural systems, we offer our customers options. We are the only manufacturer in the industry with the capability of manufacturing using concrete, steel or any combination of the two.

By designing hybrid structures of both concrete and steel, we can deliver cost-efficient solutions that offer better and longer-term protection for our customers and their equipment.

We're always being asked about the best materials for constructing a structure. But, in reality, there is no one-size-fits-all answer. Each structure must be considered on its own regarding specific challenges and goals to decide if concrete, steel or a hybrid structure is the best solution.

Let's look at some of the differences between each structural system.

Weighing the Options

There's no way to get around the fact that concrete will weigh more than steel. Concrete comes in at approximately 180 lbs./sq. foot of empty PDC floor space, and steel is approximately 55-65 lbs./sq. foot.

Concrete's additional weight may add to the handling and transportation costs; on top of that, concrete's greater weight adds to vertical gravity dead load and seismic load, which may impact the foundation cost.

However, this increased weight will reduce uplift from high wind loading to the foundation – steel structures' foundations face more uplift from high wind due to their lighter weight.

A Sturdy Study

Concerning cost, a typical concrete empty structure would normally be 15% to 20% less than a typical steel empty structure.  The cost of HVAC and other utilities and equipment installation and integration is roughly the same for either.  Within certain structural parameters, minor field modifications (penetrations, etc.) may be affected on both for approximately the same cost.

Concrete also has plenty of other advantages in terms of lifespan through its resistance to corrosion, fire, ballistics, and wind and wind-driven debris.

Painted, galvanized mild steel can provide excellent corrosion resistance in certain environments until the coating is damaged or impaired, in which case harsh caustic corrosive elements can attack and deteriorate the structural substrate.  A metal building in these harsher environments would need to be constructed of 300 series stainless steels, increasing the price quite significantly, whereas concrete construction with little and inexpensive modification would perform well in that environment.

Concrete walls can easily be designed to achieve a 1.5 hour and above fire resistance rating whereas steel construction requires the addition of a built-up fire insert typically of special gypsum board and other special materials, significantly adding to the weight, cost, and, often, the wall thickness.

Concrete structures are rated for Level 8 UL 752 Bullet Resistance Certification. Again, steel structures require expensive and/or heavy insert details built up to achieve anywhere near these ballistic resistant ratings.

A "standard" concrete structure will normally withstand UBC wind loadings in the 150 MPH range and has excellent wind-driven debris resistance. For instance, a Miami Dade wind-driven debris rating is achievable with just basic construction of a concrete foundation.  A "standard" steel structure will require much thicker panels, increased amounts of fasteners and, normally, the addition of rigid structural frames to withstand wind loadings above the 70 to 90 MPH range, and its skin is not very effective in resisting wind-driven debris and is subject to coating system punctures and abrasion.

If aesthetics are a factor, concrete exteriors can easily have the appearance of brick, block and even stone construction to match or blend in with the surrounding structures.

Concrete walls also qualify as a "Non-Conductive" material, so NEC aisle and clearance dimensions may be reduced, resulting in a smaller structure.

What Works for You

Based on the information above, one might think that concrete is the better structural material. However, it isn't that simple.

In addition to being substantially lighter, steel designs are much more adaptable to special and unusual structural requirements, such as multiple stories/levels, excessive foundation spans, wide open span requirements within the structure (no columns or posts), higher seismic requirements, and for much larger enclosure sizes with heavier equipment inside.

Each structure is unique in its circumstances. There is no uniformly right choice for construction material, and that's what makes our job so exciting. Sometimes, the best answer might be to use both in a hybrid solution, which involves combining steel and concrete structural systems throughout the structure; ie. a concrete floor with steel walls.

Fibrebond's philosophy is that each customer's project goals need to be approached uniquely, and only utilizing the best aspects of steel and concrete appropriately will achieve the best structure.

Each project is analyzed and planned meticulously around its needs and specifications, and the result is always something that meets our customer's quality standards and unique requirements. After all, it's that dedication to provide the most innovative solutions that has kept Fibrebond customer's relying on our structures for more than three decades.

To learn more, view our in-depth Concrete vs. Steel comparison.